March - December 2020 - As announced in March 2020, in line with Government Guidance for the UK, no social gatherings or training sessions can take place, whether as partner or group work and/or in a class environment. This is due to the COVID-19 (coronavirus) current situation which placed the country into a lockdown status. The Cloud Dragon School stopped all classes as of March 2020, and have followed the suggested guidelines to keep safe. Our venue continues to be closed, so no classes and/or beginners courses can take place. This was again reviewed in July 2020, in line with Government guidelines and the same restrictions remained in place. As of September 2020, following further UK Government announcements, the Cloud Dragon School cannot operate just yet, due to the room and student restrictions, as well as not being able to practise with a partner and carry out contact work. A workaround is yet to follow and we hope to have news on this during October/November 2020 - please check back then!
January - March 2021 - The Cloud Dragon School is currently closed following further government national restrictions and lockdown for COVID-19 (coronavirus). We cannot operate at the usual venue and provide training sessions to class groups. This is under review at all times and hopefully by the end of March 2021, current restrictions will be lifted, and we may be able to return to some sort of training. Check back in March for further updates and also if beginners courses will be running again.
April - May 2021 - In line with government guidelines in regards to lockdown restrictions during the pandemic, training sessions are still not currently running within the usual venue.
June - July 2021 - The Wudang Tai Chi lessons can still not operate within the usual indoors venue due to further restrictions in place due to the pandemic. The Cloud Dragon school is hoping that 'some' service will resume as of September 2021 and classes can be taught indoors again. This depends on government guidelines and the roadmap/phases for martial arts practitioners and clubs, etc. Please check this website during August 2021 for any new developments and information about returning, as well as beginners courses that may be available once again. In the mean time, keep safe, stay sane and keep up with your Wudang solo training!
August 2021 - The Cloud Dragon School Returns! We return to training as of the 24 August 2021 at the St. Johns venue. There are still some restrictions in place and adhering to social distancing where possible, but we are able to train and work around these. Please see 'Teacher and School' page for new information on class times and cost, as it is different to that operated prior to the COVID-19 pandemic.
Further Update for 2022
Classes are running as per usual times. Due to the pandemic, social distancing and respect to others while training are still adhered to. This includes, maintaining space awareness, limiting contact, hand sanitiser and general hygiene awareness, open windows and doors for ventilation, etc.
Class time reminder:
Thursday 7pm to 8pm
Saturday 10.30am to 11.30am
£10 per session only - pay as you go!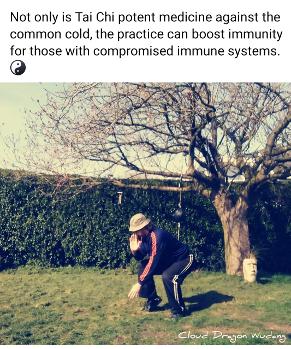 During the pandemic and lockdown, most of us continued with commitment and determination to practise our solo training. A key element of Tai Chi Chuan is that we have several aspects taught to us, that allow us to fully focus on our solo work, where we do not need a partner, unlike some other martial arts, and/or other exercise routines and regimes. In Tai Chi Chuan, we continue to practise Forms, Weapons, Conditioning (weights, cardiovascular, punchbags) and Internal Strength training. These are all key contributors in strengthening our immune systems, our overall health and fitness and for our mental healthwell-being. Keep healthy: stay safe.